When a young professional couple turned to H&H Homes to build their home above Shannon Lake in West Kelowna, they had the unusual opportunity to walk through every foot of the completed house before construction even began.
Jeff Houghton mentioned their house is actually based on his own house plan that Jenish designed. Houghton is the owner of H&H Homes.
Instead of pursuing the sometimes arduous process of having a house plan designed from scratch, the clients were able to select the Jenish plan that caught their eye and see how it was brought to life on Houghton's lot. They then had the plan tweaked to suit their specific needs. The couple's home, now one of almost 220 houses in Smith Creek, was completed last summer after nine months of construction.
For these homeowners, there was a lot to love in what the plan would offer: sweeping lake views the second you step through the front door, generous main floor living with all the extras, and plenty of space for the kids upstairs and the in-laws in the legal suite downstairs.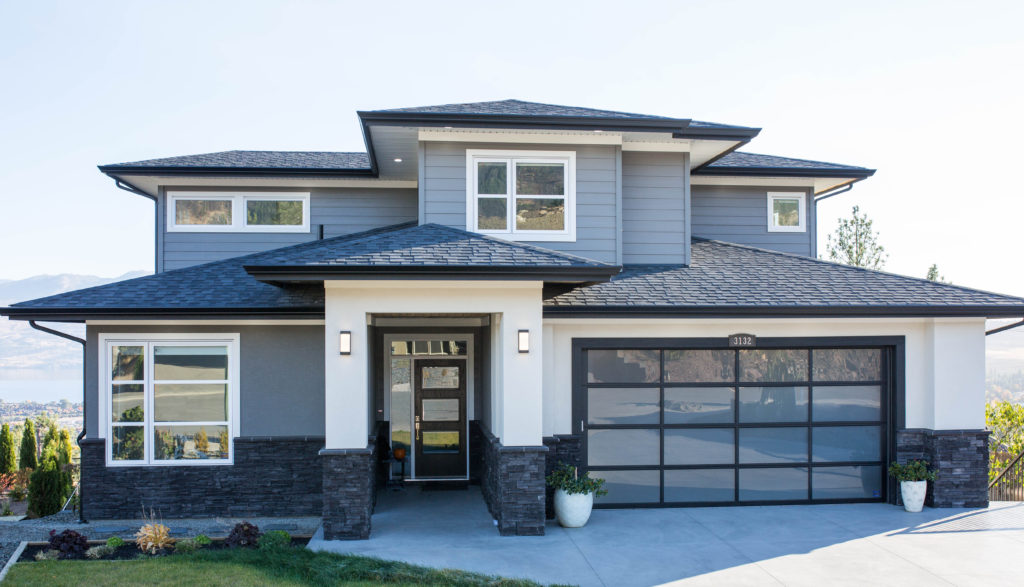 "It really ticks all the boxes for a young family," said Houghton, who chose the plan for himself because of its unique and lasting versatility. With a master bedroom on the main floor, homeowners of any age will always be able to enjoy it.
"That aspect is good for future resale value because a lot of people don't want to continuously go up and down a flight of stairs."
Upstairs are two bedrooms for the kids, adjoined by a Jack-and-Jill style bathroom.
"For families that have kids who are a little older, this set-up is really perfect. Both the kids and the parents have their own space," he said, adding, "the main floor den could be converted into a guest or fourth bedroom, and that's before you even include the space downstairs."
This Jenish design harnesses a growing trend among homeowners to make use of every inch of their home. Depending on which door you lock, either at the top of the stairs or in the foyer below, the home's basement has a 962 square foot one-bedroom suite or a 1,500-square foot two-bedroom suite.
The couple elected to keep a portion of the basement for themselves, and have their parents stay in the suited portion.
To take advantage of their lot's panoramic lake and valley views—and to create an atmosphere as expansive as the surrounding landscape—the couple opted to elevate the ceiling in the great room to 12 feet and add stacking floor-to-ceiling windows.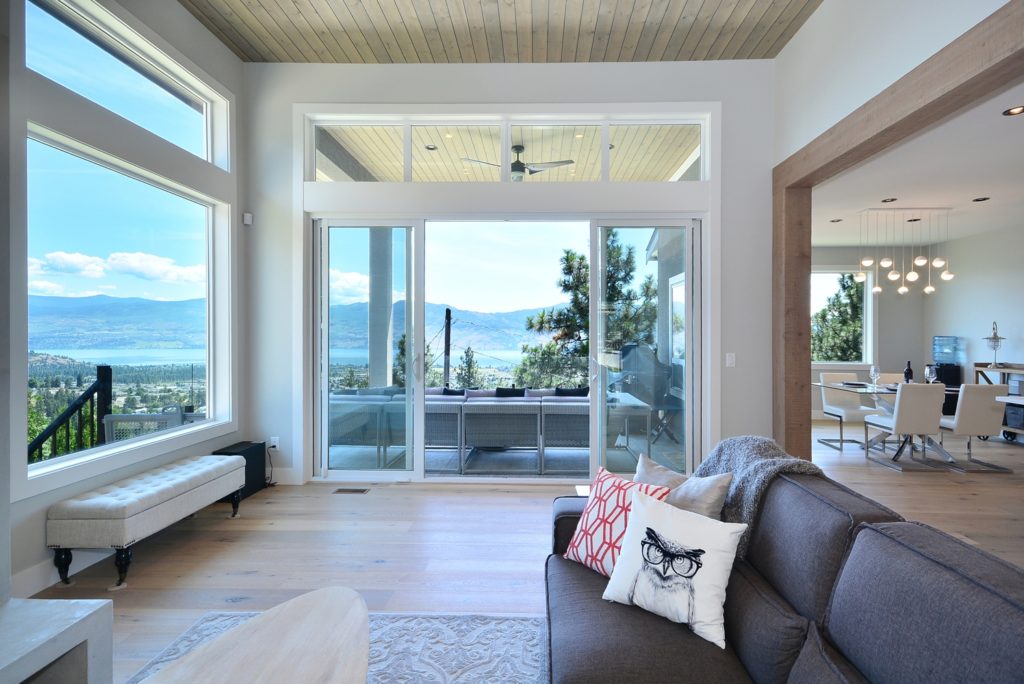 "That's definitely a growing trend we're seeing," said Trevor Beatty, Jenish House Design President and designer. "Years ago, eight foot ceiling heights were standard. Now stock plans are usually nine feet, but we often have homeowners wanting to raise them to 10 feet or higher. It's one of the more common changes we see and it's the easiest to modify in the plan."
The lofty ceilings are marked by a custom-stained tongue and groove soffit that runs from the entry through the great room to the rear deck. The deck's topless rail makes it easy to take in the entire landscape from any vantage point.
It was in the home's exterior, however, where Houghton was truly able to put a stamp on the appearance. At first, the couple couldn't decide what exterior colours and finish they wanted.
"I told them, 'I have an idea. Trust me and let me go with it'—and they did."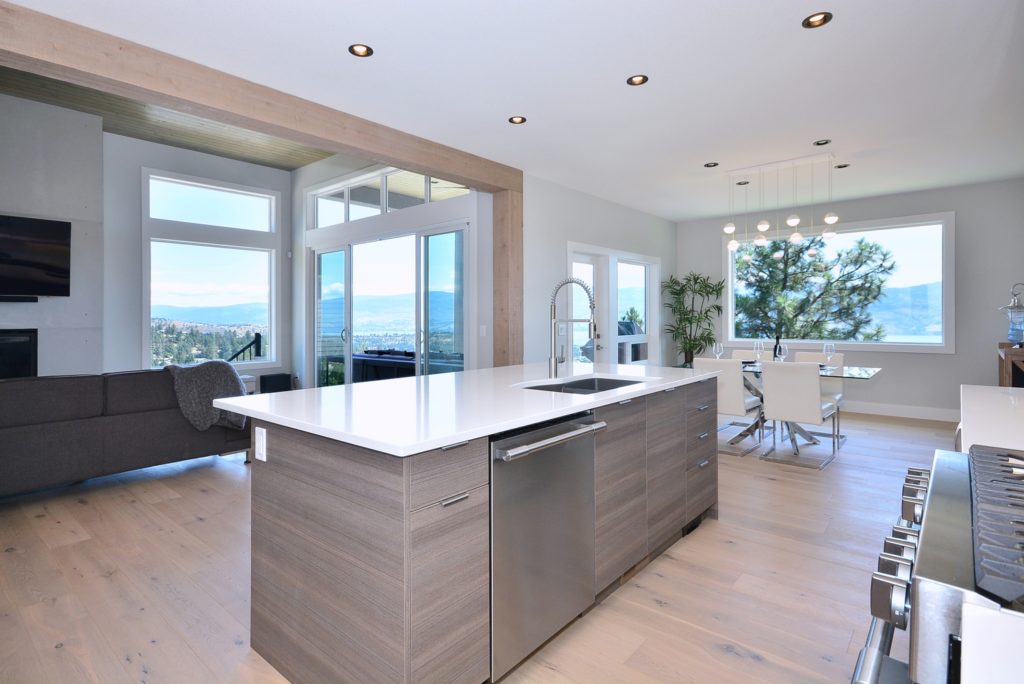 The result was an eye-catching yet subtle blend of three finishes: gray textured acrylic stucco, white smooth stucco, and slate gray James Hardie concrete cement board with white shadow boards below the soffit.
Beatty says the exterior colour and finish choices enhance the home's trending regional style.
"It has a bit of a contemporary flare to it, which is becoming more and more popular, especially in the Okanagan. Some people are even coining it 'Okanagan modern.'"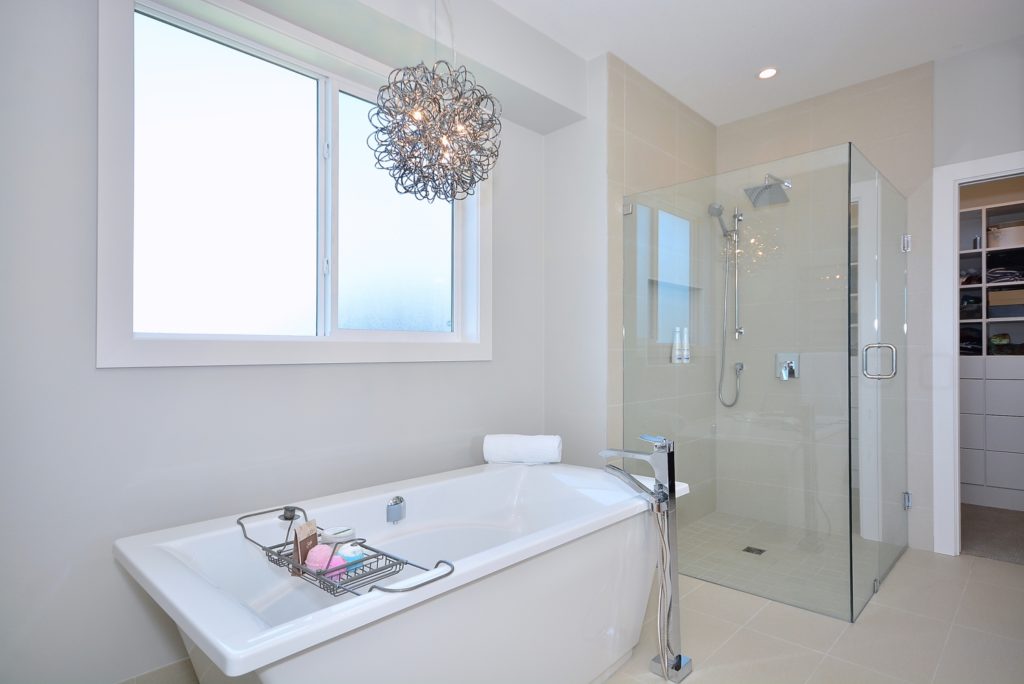 It's a style that gives newly built homes a modern edge without sticking out in subdivisions with homes that are more craftsman or Prairie styles—and without contrasting the surrounding natural beauty.
Thanks to an oversized double garage (which adjoins a walk-through pantry) and a "massive" driveway with ample parking, the homeowners will be able to have plenty of guests over to enjoy the home, its views and their little slice of heaven for years to come.